Image credit: http://cedkocom.blogspot.com
If you live more than 2 decades in KL, you might remember there was an aggressive campaign for carpooling before. This was pre-SMART tunnel era, where KL city was already choking with single-occupant cars. Approximately 2 million vehicles drives through the city roads everyday, to-date this could be much higher.
After much fanfare launching, car sticker give-outs and creative TV ads, the campaign was slowly doused. I wonder if that is to address the sudden decrease of car sales those days. Well, it certainly worked as for the
sales of cars have steadily maintained or increased over the last decade
. Not enough with that,
Better car sales expected in Q2
?? (In Tamil we say
kilinjathu poh
).
KL is now choking with cars, more than ever. And everytime it rains in the morning, people gets frustration of the confusion of the congestion!! Aaah, don't forget to
curse the SMART tunnel operators, for closing the tunnel.
Yes, the tunnel has transit decks for vehicles, but its primary function is storm water management, to avoid flash flood in KL area. So when flash flood are eminent in KL, the tunnel plays an important role. People may argue, so what if KL floods, let me go to work via the tunnel-lah! Aha? So when you reach the flooded KL, your car becomes amphibious vehicle??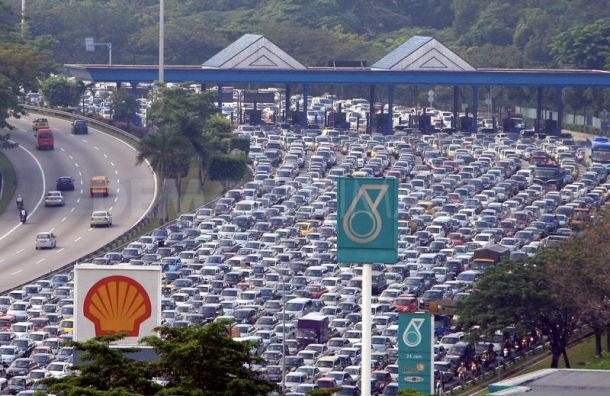 I've been living in KL all my life (more than 3 decades to be precise), so far nothing is done (enough) to improve the situation. Yes, there are many highways
around KL
, but they start/end outside the city, right??
Public transport??
Hmmm there's more than 32,000 taxi permits issued, unfortunately I was told they can't fly around city.
More buses maybe?? Hey how can we travel on bus-lah bro, I got my super-power-mini-cooper-wannabe-kelisa-maah!!
Train?? Always late!!
LRT?? Always packed!!
Motorcycle?? Always rain-lah!!
Bicycle?? Aiyah damn hot-lah, sure die!!
Pssst 50 billion MRT?? Not passing my taman-lah kak!!
With more cars expected to be on our (small) roads, there don't seems to be light at the end of the SMART tunnel. When we compare with Singapore which imposes high price and toll for vehicles, people say "its a small country-lah, sure can do" ... how come Japan as big country can also do? For all the city folks who think/hope for a better traffic condition ... why not car pool, again ;)